Governance in India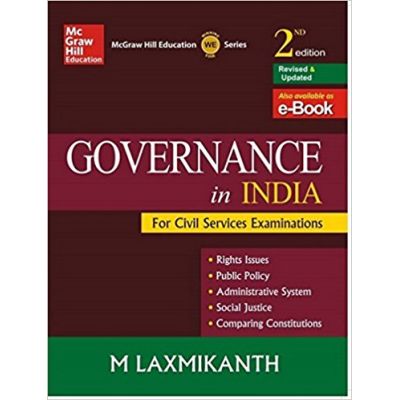 The book deals with every little detail that aggregates with the major events, corresponding to the governance system in India. An aspirant who plans to appear in a civil services examination or a public service commission exam has to understand the subject of Indian governance meticulously.
While Indian Polity is a different subject all together, many aspirants often confuse the two and hence walk in unprepared in the examination hall. In the second edition, the author has revised the contents and remodeled the scheme of the book to present the more important topics in the subject.
The edition is more focused on delivering upon the subject and the requirements of the readers and the information has been strung together coherently to create a pattern that promotes easy learning.
The book begins with explaining the basic rights and freedoms of the citizens, moves to graver topics like Public Policy, Central Administration, State Administration, Divisional and District administration, Personal and Financial Administration, Law and Order Administration and control over administration. The other topics that follow are Statutory Bodies, Regulatory bodies, Quasi-Judicial and autonomous bodies, Advisory Bodies and Executive Bodies.
The book also sheds light on some recent important topics that often feature in competitive examination like Government interventions for development, Welfare Schemes for Vulnerable Sections, Laws for Protection of Vulnerable Sections, important aspects of Governance and comparison of Constitutions. At the end are 12 Appendices with important terms and dates to be remembered.
About the Author:
An alumnus of Osmania University in Hyderabad, M. Laxmikanth has to his credit a degree in Political Science; he has taught civil services' aspirants at his private coaching academy. The academy, Laxmikanth's IAS, is named after him. Apart from the Indian Polity, M. Laxmikanth has also authored another book titled Governance of India. Both of these books intend to serve as guide books for those preparing for UPSC Civil Services Preliminary Examinations and Public Administration.