TSNPDCL Sub-Engineers Electrical Engineering Recruitment Examination 2018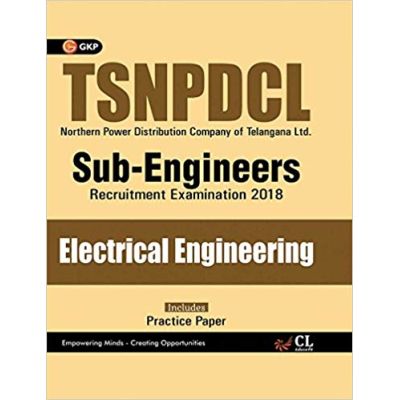 G. K. Publications has been the ''publisher of choice'' to students preparing for GATE, ESE and various other technical examinations in the country for over two decades. Now its content is also available for the TSNPDCL – SE exam for Electrical Engineers. This book comprehensively covers the syllabus and can serve as a complete reference guide for the respective paper. Every chapter contains detailed theory followed by a rich collection of practice questions with detailed explanations. At the end, the book also provides practice paper to analyze your preparation and help you understand your progress.
Features
Thoroughly based on the syllabus of TSNPDCL
Synopsis of concepts and keynotes in each chapter
Practice questions at the end of each chapter for review
One practice paper to analyze your preparation
Content
General Engineering
1. Circuit Theory
2. Basic Electricity
3. Measurement and Measuring Instruments
4. Electrical Machines
5. Power System
6. Electrical Energy Utilization
7. Transmission and Distribution
8. Power System Protection
9. Control Systems
Quantitative Aptitude
1. Simplification
2. Number System
3. Ratio and Proportions
4. Problems on Age
5. Alligations & Mixtures
6. Partnership
7. Time and Work
8. Time and Distance
9. Boats and Streams
10. Simple Interest and Compound Interest
11. Percentage
12. Profit and Loss
13. Average
14. Algebra
Reasoning
1. Series Completion2. Coding–Decoding
3. Syllogism
4. Analytical Reasoning
General English
1. Spotting Errors
2. Sentence Correction
3. Sentence Completion
4. Synonyms
5. Antonyms
General Awareness
1. Telangana At A Glance
2. Current Affairs
Computer Knowledge
Introduction to Computers
Practice Paper.